Regular price
$0.00 USD
Sale price
$7.00 USD
Unit price
per
Sale
Sold out
Share
----------------------------------------------------
[NOTE] This item is limited to ONE (1) per person for the first wave release. If you order more than the amount allotted, the items will be removed from your order and you will be refunded.
----------------------------------------------------
—-
Authorize! As always, the Progrise Keys hit the SG Candy Toy line. Much like SG Ride Watches, the SG Progrise Keys function entirely off of a button on the side of the toy, as opposed to the button on top. The toy will cycle through a number of sounds, so you have to make sure the toy is queued to the toy you're using it with. It's worth noting that no lights are included in these toys, but the flip out key function still remains.
This is the SG 06 release of Assault Wolf, the Progrise Key used by Kamen Rider Vulcan to transform into Kamen Rider Vulcan Assault Wolf. While this does make the Assault Wolf noises, this toy is shaped and sized like a standard Progrise Key and does not have an Assault Grip style.
---
By: Bandai 
Date Released: February 2020
Franchise: Kamen Rider
Show: Kamen Rider 01
Toy Line: SG Progrise Key Series
Ships via: SAL Registered, Airmail Registered, and EMS. 

Includes: 
- SG Assault Wolf Progrise Key
----------------------------------
Regarding VAT/Importing Tax
Please be aware of by purchasing this item outside of Japan, you are importing an item from Japan and please be aware of "VAT" or "Importing Tax" may apply to your purchase and you may be asked to pay an extra fee at your door. Every country has their own rules and their Custom Charges every level and please contact your Custom office for more details. Here is our FAQ posting for more about the VAT/Importing Tax. 
----------------------------------
View full details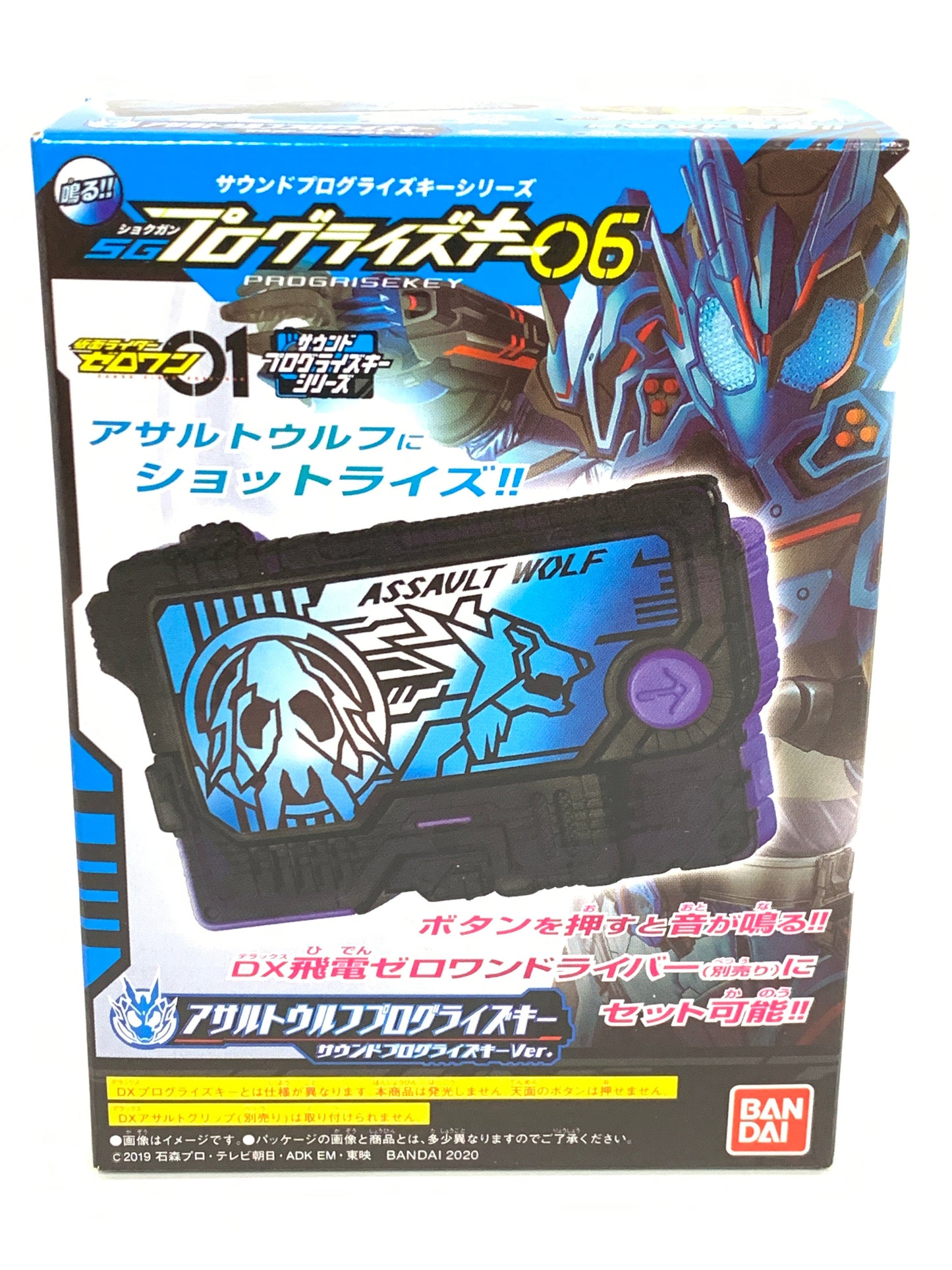 CSTOYS Instagram Feed
We take pictures of your orders  BEFORE & AFTER we pack them and posted them in our Instagram channel. In this way, you can make sure the items you are getting, and see how we packed them. This helps both us and the customer make sure the order is correct, packed, and ready to go! Feel free to share this with friends and family too!